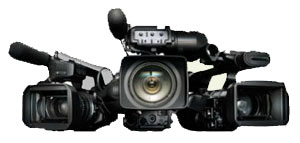 As part of my fundraising effort to fund and release new films I also put my cameras to work for you. I offer freelance camera operation, event documentation and post production | Editing services. Generating video content For performers, speakers and small business entrepreneurs.

I normally film events and shows with multiple HD cameras and pro audio mics to ensure we have full video and sound coverage of the key moments. In addition to the main event I will also do additional news gathering video journalism and film interviews behind the scenes and b-roll stock footage to ensure we have enough raw material to craft a good story in post production Editing

Then we weave the story in editing, process video and sound, add logos, titles, presentations, motion graphics credits and other key information and output the completed polished video ready to upload to your Youtube channel or website.
OUR PAST CLIEN
I can do almost any video project but the requests I get most often are..
---
Video documentation and filming
Live music | concert shooting
and gig recording.
Event keynote or expert speaker camera
EPK - Electronic Press Kit videos for artists, events and businesses
ENG - Electronic news gathering - behind the scenes and interviews
Seminar video production.
Corporate and business videos - elevator pitches and client testimonials
training and tutorial videos
Mobile Studio live video switching for recording or webcast
Kickstarter and Fundraising videos
Wedding videos and special events
Video switching for live visuals and video backgrounds


in-Studio Video Post Production
Editing and story crafting
Video and audio processing
Video format and transfer service
Video finalization packaging or encoding for upload.

For booking inquiries contact us today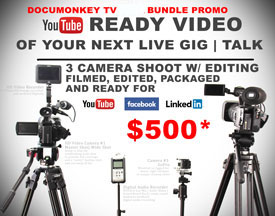 * restrictions apply contact for details